Kyra - Remy Litter

Kyra has been bred

and puppies are expected mid July!

The sire is a handsome and happy young dog from the East Caast.  Remy, or

GCH Riverside's Remington Magical Gun. 

The infusion of this dog's excellent pedigree and health history is very promising and his show career is quite impressive as well!

Puppies from this breeding will be beautiful, solid, healthy companions for loving owners. 

Being Welshies they will also be

devoted, sweet & funny!

Later in life, Kyra's sire picked up 2 of 3 legs towards his Junior Hunter title. 

Both of his parents achieved Senior Hunter titles.  On Remy's side we have several accomplished

field dogs, so this litter may offer pups with

good field instincts.

Our waitlist is presently closed. 

If Kyra has more puppies than expected or if others drop their reservations

we will open it again.

For a pup from a future litter, please email regarding your interest.

If you are interested in a puppy

please read and complete the

puppy questionnaire (link below).

( The 10 Generation COI is 3.1 )

"Kyra"

GCH Redsage Defying Gravity

CHIC

b. 8/30/2008

OFA Hips - Good

    CHIC # 73373
OFA Elbows - Normal

OFA Thyroid - Normal

OFA Cardiac - Normal

CERF/Eyes - Clear 
Kyra
is from an impressive line of top winning Welsh Springers in the U.S.   Her  grandsire, great-grandsire and great-great grandsire are all Best In Show winners!  She is an incredibly devoted companion, has a sweet disposition and ever present love of fun!  Kyra completed her Championship at 12 months of age with 3 majors over the boys.  A few days later won her first Group placement!  Kyra acheived her Grand Championship with 5 majors in very limited showing before and after her first litter of puppies!  For more photos go to her
gallery
. 
Her first litter of 10 puppies, 5 boys and 5 girls, were sired by CH Trystyn's Blue Rodeo. They were born 9/10/11 and 4 are in show homes with pups placed from British Columbia to Brazil! 

Kyra's second litter was sired by charming Jason from The Netherlands.    One cute girl puppy was the result of the frozen semen breeding from CH Captain Jack des Vauriennes.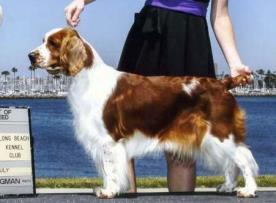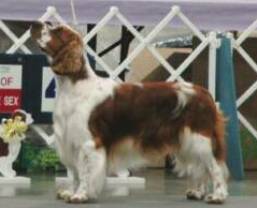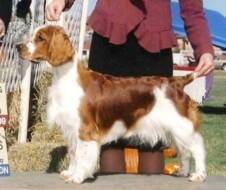 Kyra's Champion siblings: 


CH Redsage Hot Lil Number   "Melody" - Left


CH Redsage Crackerjack Cadence  "Dexter"  - Right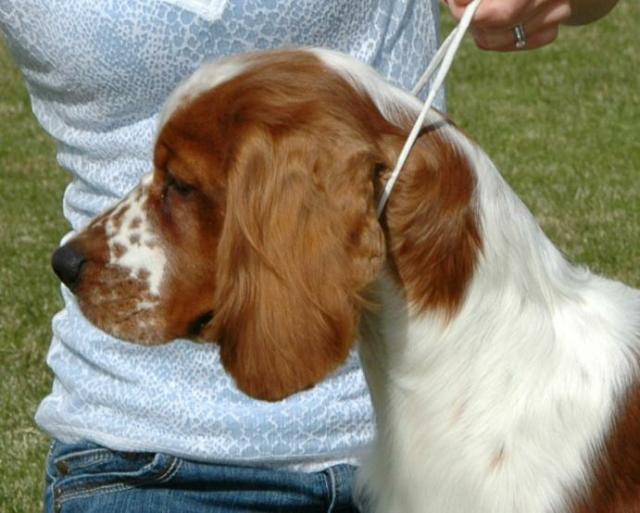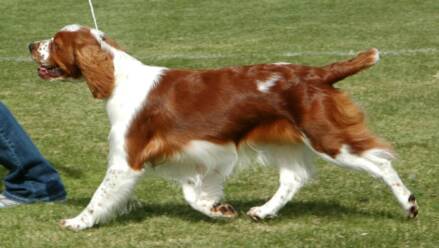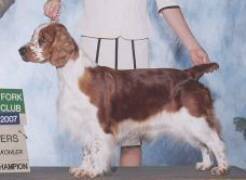 Kyra's dam Tasha

CH Loreln's Tasharele at Redsage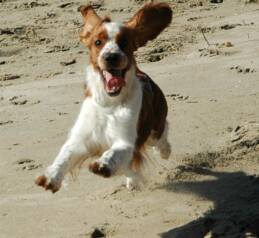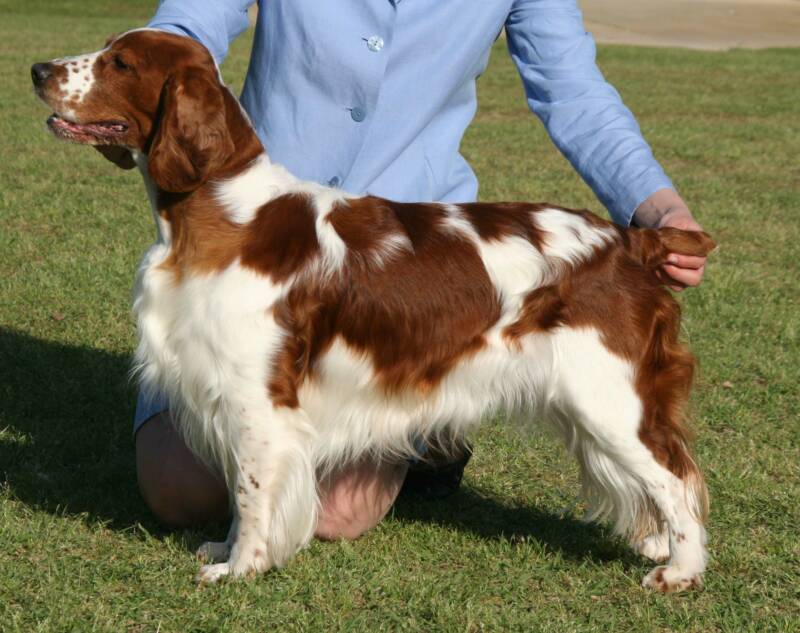 Kyra's sire Nash

CH Statesman Skeldales's Nashman, RN

"Remy"

GCH Riverside's Remington Magical Gun 

CHIC

b. 1/21/2008

OFA Hips -Excellent

    CHIC # 65047
OFA Elbows - Normal

OFA Thyroid - Normal

CERF/Eyes - Clear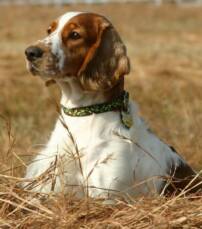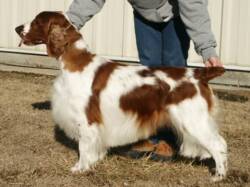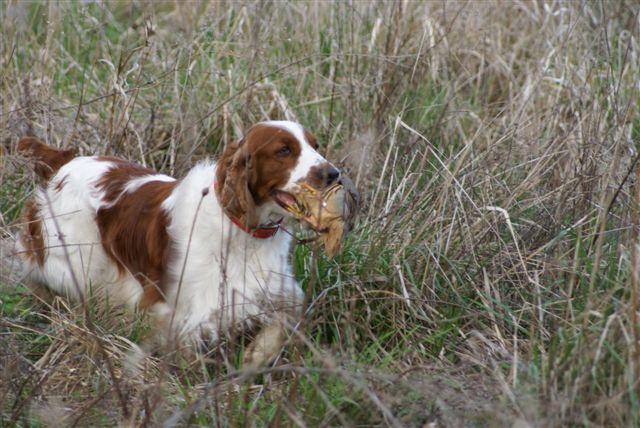 Brady's dam Teagan

CH Fairwind's Magic of Macduff, CGC

Brady's sire Gunner

CH Ky-Bryn's Frontline Gunner, SH, VCX

Remy's sire Gunner with a bird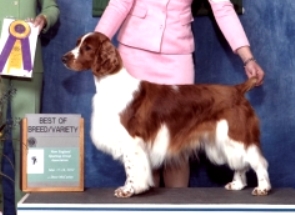 One of Remy's sibilings:

CH Riverside's Cannons at the Beach   "Brady"

Good natured Remy is the star of his litter of accomplished siblings.  Two others have earned their AKC Championships as well.  Remy took over the spotlight picking up his Grand Championship and stepping up as a contender at Westminster, the WSSCA National Specialty and other highly competitive shows., where he garnerd recognition by making the "cuts", and picking up many noteworthy placements such as Best of Breed at the AKC Eukanuba National Championship. 

Half the litter also has their "CHIC" designation for health.  Remy is one of six sibling

and of those the hip scores are 3 excellent

and 3 good.  His dam comes from a litter

of 8 where there were 4 excellent and 4 good!  The normal results for thyroid, elbows, cardiac, eyes and shoulders are extensive. 

In addition to the wonderful conformation

championships and all the positive

Health  results, there are a number of accomplished dogs in the pedigree with Hunt titles, Obedience, Rally and more.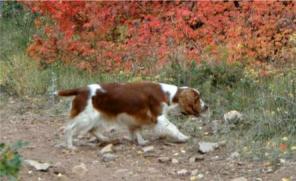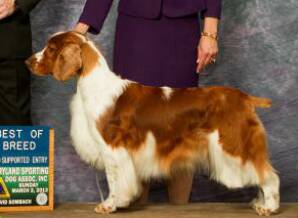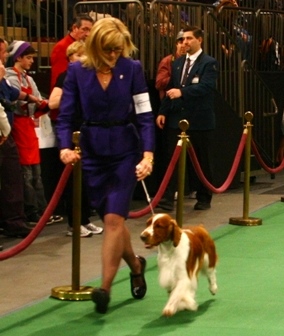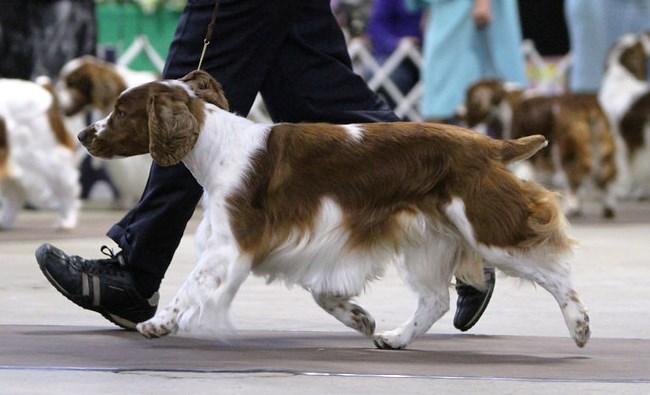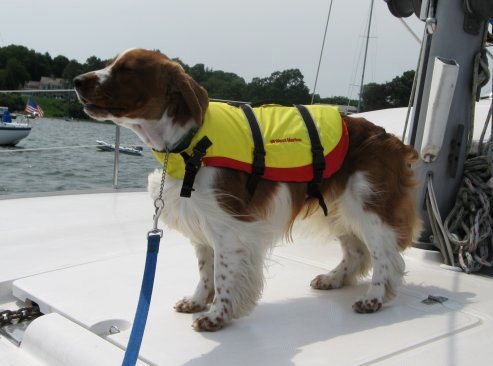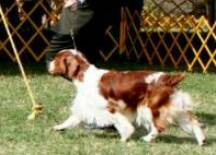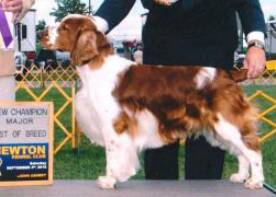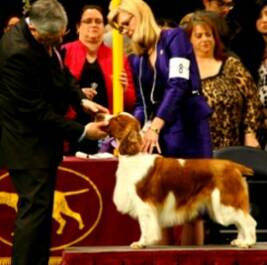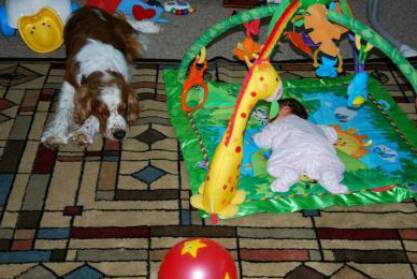 Remy and his littermates are a litter of 6 with 3 Excellent & 3 Good hip scores!

Kyra's sire Nash with a bird (as a Veteran)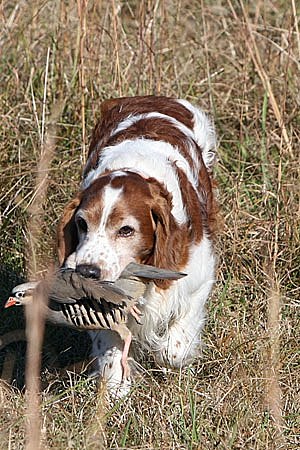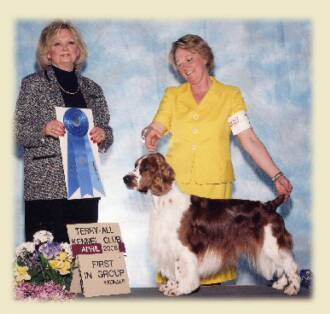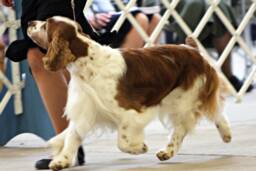 Great Grandsire Gavin

Multiple Best in Show Wins &

winner of the 2010 WSSCA National Specialty